Exploiting Luke Kuechly
November 17th, 2012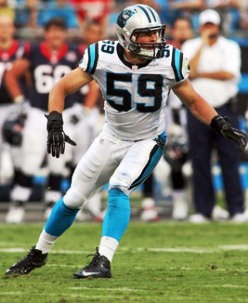 Joe's not big on most postseason awards, but Joe knows Lavonte David has to be in contention for something as the tackling machine on the Bucs' top-ranked run defense.
David is fifth in the NFL in tackles (81), pretty amazing for a rookie. But then it feels a little less special because rookie Luke Kuechly of Carolina is third in the league with 87 tackles. Kuechly was the can't-miss 21-year-old middle linebacker in the NFL draft out of Boston College. He started the season as an outside linebacker but has gone wild since moving to the middle of the Panthers defense.
Speaking on 98.7 FM yesterday, Charlotte Observer Panthers beat writer Joe Person was gushing about Kuechly but said he does have a weakness.
"He's averaging 15 tackles a game since taking over the middle for Jon Beason. He doesn't miss tackles," Person said.
Kuechly has proven "vulnerable to play-action," Person said, and has yet to show the same prowess in coverage has he has in other phases of the game.
Joe found this to be an interesting nugget, and one that leads Joe to believe the Bucs will try to exploit Kuechly over the middle early and keep him playing a little less downhill.
Definitely something to watch for on Sunday.