"Everyone Is Getting A Little Better"
November 2nd, 2012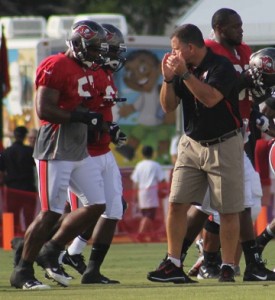 Josh Freeman was unprompted and speaking with extreme confidence last night when he said the Bucs offense and his chemistry with receivers will be significantly better in a month or so.
Freeman, via The Josh Freeman Show on WDAE-AM 620, comfortably talked about how the offense is grinding out the work day by day and seeing results — nine touchdown passes in the past three games should let any Bucs fan know Freeman is not delusional — and how Dallas Clark is settling in now after adjusting to an offense radically different than the one he was in for a decade in Indianapolis.
Interestingly, Greg Schiano gave a similar take to the Oakland media, via Associated Press.
"Everyone is getting a little bit better and it adds up," Schiano said. "That doesn't mean anything it's looking forward. It gives them confidence, it should give them confidence that 'Hey, this is what we're capable of but you're only as good as your next outing.' That's what we need to do. We need to go out and do a little bit better this week against Oakland. That's what we have to try."
Thankfully, tired "the-getting-better-every-day" line is not a bunch of baloney for these Bucs. One can track steady improvement on numerous fronts, including the coaching staff and Doug Martin stepping to the front of the line in Minnesota.
Hopefully it continues. But it'll be a huge test to see how the Bucs respond when they do, almost inevitably, drop a clunker.
Back in December 1999, the Bucs lost 45-0 in Oakland, as Napolean Kaufman and Tyrone Wheatley ran hog wild on Tampa Bay. It served as a stunning a wake-up call before falling oh so short in the NFC Championship game to the Rams. Shaun King, QB of those '99 Bucs, remembered that Raiders disaster yesterday on WDAE-AM. King said the Bucs had won six in a row before that game and there was a rockstar vibe around the team, which included one unnamed Buccaneer in the team resort elevator with naughty Salli Richardson the day before the game. 
History aside, Joe expects no such let down — or celebrity bedding — under the New Schiano Order in Oakland on Sunday. With extra time to prepare for this game, Joe doesn't expect the Bucs to take a step backwards.