Dotson, Zuttah Credit Bob Bostad
November 6th, 2012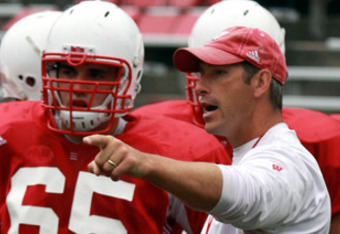 It is easy to see why members of the Bucs organization rubbed their eyes in fret when Pro Bowl right guard Davin Joseph went down with a season-ending knee injury in August. And Joe totally understands how the front office and coaching staff  wanted to reach for a bottle when Pro Bowl left guard Carl Nicks could no longer play on his big nasty toe injury.
Shoot, Joe wanted to empty a bottle as well.
But the way the Bucs (don't forget, incumbent starting right tackle Jeremy Trueblood was injured and Wally Pipp'ed, and reserve right guard Ted Larsen returned to the bench) have overcome injuries and obstacles, and still played at a high level against a solid front seven of the Raiders, Joe was terribly impressed.
By Joe's reasoning, most of the credit goes to offensive line coach Bob Bostad.
To hear what center/left guard Jeremy Zuttah and right tackle Demar Dotson told Joe yesterday about Bostad, well, Joe's initial observations were right on.
"Coach Bostad is a great coach," Zuttah said. "He's aggressive and assertive and stresses little things. He will keep on us, he doesn't ever ease up. He is always on us and I think that is good because it pushes us to a new level."
Zuttah cited hand placement and footwork as two of Bostad's key points that he stresses, among others.
"Everything. He won't let you go with anything," Zuttah said. "If your technique is a little bit off, he will be on you. "
Dotson also credited the little things Bostad focuses on that have made him a better lineman.
"He is an awesome guy, an awesome coach," Dotson said of Bostad. "Everywhere he has been he has been successful. He is the reason why we are coming along the way we are. I mean, we have two Pro Bowlers that are not here. Yet we are still getting the job done. That's what kind of coach he is.
"He teaches physical and teaches technique. He is big on being physical and big on technique, knowing your plays, knowing your assignment. If you do what he says, you are going to be successful.
"It is some simply things like putting your hat across the guy's shoulders on a run block, he is big on that. You may get it right, you may get it wrong but he harps on that because he wants everybody to do it right."
Joe simply cannot remember, sans perhaps Pittsburgh, in recent years, an offensive line being down three starters, two of which are Pro Bowl players, and still getting the job done up front.
If Team Glazer doesn't have Bostad locked in for a few years at a competitive salary, perhaps now is the time to rectify that matter?