Dominik Talks Pineapple, Tackling & More
November 21st, 2012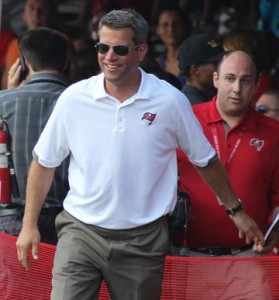 Rockstar general manager Mark Dominik went on tour this week and landed on the airwaves with the dean of Tampa Bay sports radio, Steve Duemig, for a 16-minute chat this afternoon on WDAE-AM 620. 
Dominik glowed about Ronde Barber's "development so quickly at safety" and how Barber is "playing at a Pro Bowl level." And Dominik didn't shy away from Duemig throwing out hypotheticals that the Bucs could have a pile of players, including rookies, headed to Hawaii for some February pineapple.
While not referring directly to the Pro Bowl, Dominik said Erik Lorig's "a sleeper" among Bucs having standout seasons.
Dominik said first-year Buccaneers' "hunger to win" blended in well with returning Bucs that possessed that same hunger. "The guys that were here the year before, that got difficult," Dominik said of the team environment last season.
Another nugget of interest, among many, was Dominik talking about a pre-hire interview with Greg Schiano when Dominik and Team Glazer asked Schiano how he would get a team to tackle. At that time, per Dominik, Schiano laid out the details for his now notable tackling circuit drills that school the fundamentals at their most basic level.
Enjoy the full interview below.