Dominik Sheds Light On O-Line Strategy
November 22nd, 2012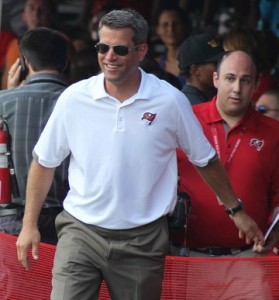 It's never to early to talk NFL Draft and delve into the intricate strategies of rockstar general manager Mark Dominik.
The rockstar pulled back the curtain as it relates to his long-standing offensive line philosophy during his interview with Steve Duemig yesterday. Dominik explained that he's only drafted one offensive lineman among his 30 draft picks and that's because he believes it's typically better to see an offensive linemen on some level of the pro game before committing to them.
The prevalence of the spread offense in college has made it more challenging to effectively scout O-linemen, Dominik said, and Dominik pointed to successes with Ted Larsen, Demar Dotson and Jamon Meredith.
"Personally, I like them to develop a little bit in this game and then go get a little more information about [them,] " Dominik said of studying young linemen prospects after the draft. "So if you can be more meticulous, have a mindset as we do as an organization, and Greg's 100 percent on board which is fantastic for us, you go find them."
Just something to file away before draft talk gets hot and heavy in February.
Will the Bucs look to draft a highly touted right tackle or a future replacement for Davin Joseph? Those odds seem to be well stacked against it.