"Been Awesome Playing For Sully"
November 13th, 2012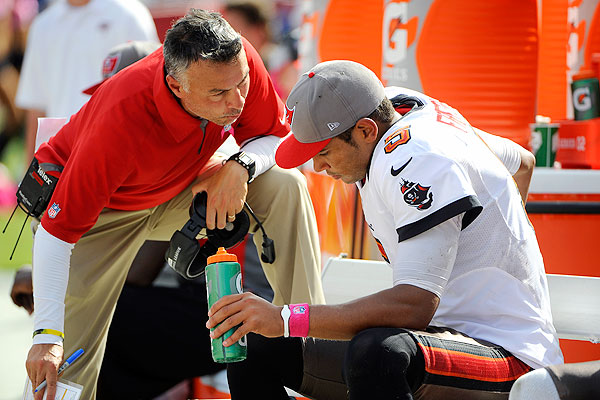 This morning, Bucs quarterback Josh Freeman dropped a phone call into "The Opening Drive," to chat X's and O's with co-hosts Bob Papa and Amani Toomer, heard exclusively on SiriusXM NFL Radio.
In discussing the Bucs offense, it is easy to understand how the Bucs — and Joe still cannot believe he's about to type the following sentence — are the new offensive standard in the NFL.
In short, Freeman and Bucs offensive coordinator Mike Sullivan, who Freeman calls "Sully," hit it off like two peas in a pod. Once Freeman and the rest of the Bucs offense got on the same page as Sullivan, it was just a matter of time before the offense, stocked with talented skill position players, took off.
"First time I sat down and talked to Sully, at the time, I couldn't even talk about football," Freeman said. "We talked about life, we talked about our families and certain beliefs. I walked away just jazzed. I was excited. Coach Sullivan is high energy, he is a great teacher, believes in doing things the right way. He believes in hard work. Nothing changes.

"He is very passionate about the offense, very passionate about his offensive packages. There are a lot of elements to the offense that nobody other than him have experience running. He did an excellent great job of breaking it down and getting people to understand what we are trying to accomplish with each play. It's really been awesome playing for Sully."
And to think just a scant few weeks ago, a sizable portion of Bucs fans were clamoring for the Bucs to draft West Virginia quarterback Geno Smith in the first round of next year's draft. At the time, Joe explained how patience is a virtue and often it takes time for a new offense to click with a team.
Joe was mocked for taking such a stance. Well, sometimes, patience is truly a virtue as the Bucs have melded into sort of a Gulf Coast version of Air Coryell.