Ageless Ronde Barber
November 8th, 2012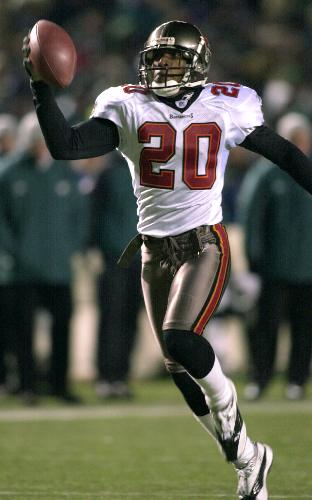 The way the Bucs ended last season and hiring a new, untested coach from the college ranks, Joe wasn't so sure Ronde Barber wouldn'tblow the whistle on an incredible career.
But with a little cajoling over dinner with Bucs rock star general manager Mark Dominik and new Bucs coach Greg Schiano, Barber not only decided to return, but to move to safety, which seems to be a common move for aging cornerbacks starting with Ronnie Lott and continuing with Rod Woodson and Charles Woodson.
The move, and playing with young studs like Mark Barron, Mason Foster and Lavonte David, seems to have reborn Barber.
The numbers geeks at ProFootballFocus have noticed this too and are exalting in their reviews of Old Man Ronde.
Reports of his demise…

Last season Ronde Barber looked for all the world like a player that needed to retire. He was missing tackles for fun, and looking badly out of his depth at corner against the league's best receivers. This season the move to safety seems to have revived him, and his +3.2 grade represents a season best. Barber was thrown at four times [against Oakland], broke up two passes and allowed just 19 yards on three catches.
Now Joe has gone on record disputing ProFootballFocus's statistics on missed tackles. Joe sure as hell didn't see so many from Barber.
But Joe does agree it seems like Barber is totally energized. That's a good thing. And yes, Barber someday deserves to be in the Pro Football Hall of Fame.