Wrong Pregame Emotional State Hurt Tackling?
October 3rd, 2012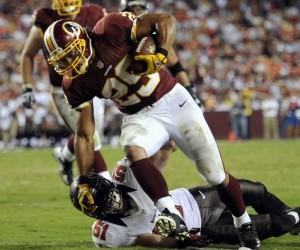 Who knew the leader of the New Schiano Order, a man of details and discipline, was a guy who would pin poor tackling on the emotional state of his players?
It surprised Joe went defensive coordinator Bill Sheridan went there yesterday while explaining the Bucs' poor first-half tackling.  
"It was really unlike we had played in previous games. And I think Greg did a great job. He pointed out to the players afterwards that sometimes that can be like a reflection of where they're at emotionally going into the game," Sheridan said. "Because I thought we had tackled well going in the previous games and it was kind of uncanny, especially in the first half."
So why were the Bucs in such a funk "emotionally" that they couldn't tackle? 
Were they subconsciously avoiding feeling guilty about actually tackling with Raheem Morris watching on the sidelines? Something that didn't happen last season?
Joe can't think of another reason. This is all very bizarre.
It's freakin' professional football. Have some pride. Eleven missed first-half tackles like the Bucs had Sunday is shameful, especially on the home turf before fans that have been abused enough by losses in 13 of 14 games.
A defense's emotional state should be all about ripping the offensive players' guts out,  especially in the first half before fatigue is an issue. That's what fans are paying hard-earned cash to see.
Joe's not sure how Schiano prevents the Bucs from having another pregame emotional breakdown, but Joe suspects the head coach will find a way.