"We're Going To Be Very, Very Conservative"
October 11th, 2012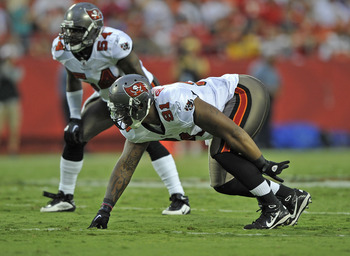 Today the leader of the New Schiano Order said he was very encouraged by the progression of Da'Quan Bowers, but cautioned that the Bucs "we're going to be very, very conservative" when it comes to making a decision to put Bowers back on the field.
Bowers tore his Achilles in the spring and said recently he'd be ready to go before the Bucs take on the Vikings in Week 8.
Schiano's upbeat take was based on seeing Bowers "on the field in rehab." The coach called it "good stuff."
With the Bucs having only three DEs on the roster, Joe has to think the Bucs are planning to bring Bowers back sooner rather than later. But Joe really would rather see Bowers sit out the season. Joe's no doctor, but what's the hurry?