Vincent Jackson Has Josh Freeman's Back
October 17th, 2012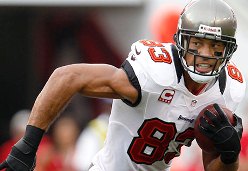 As Joe wrote Monday, in the first half when Bucs quarterback Josh Freeman was struggling, throwing a ghastly pick in field goal range early and later one-hopping a pass to an open Tiquan Underwood, fans at the stadium on Dale Mabry Highway booed as if Derrick Ward had returned to suit up for the Pewter Pirates.
Later that night, after the Bucs had manhandled the Chiefs, Bucs receiver Vincent Jackson took to the SiriusXM NFL Radio airwaves to discuss the game with Steve Torre and Bill Lekas. And while Jackson wasn't asked about the fans' impatience with Freeman, it was as if Jackson was speaking to the fans about that very subject, all but telling Bucs fans to get a grip.
"Man, it is great," Jackson answered in response to a question about how he likes working with Freeman. "I love to see this kid's resiliency. He is learning, he is betting better each and every week. Obviously, it is a new offense for all of us but we have been working on it since March. We have gotten to a point where we trust it, we believe in it and we know we can make plays no matter how the game is going.

"His maturity level is very impressive the way he is able to come out there and take control of the game as he has been doing, putting together two-minute drives and when we are ahead to control the game and move the ball down the field when we need first downs. It's fun to play with him. He's a hungry guy, he is competitive. I love playing with him."
If one is to read between the lines, it's as if Jackson is saying the Bucs offense is continuing to grow week by week because the players are becoming more and more comfortable with it.
If that is the case, and the Chiefs game is an example, the Bucs may be able to hang with the Saints if Sunday becomes a shootout. Drew Brees certainly will have his chances against the struggling Bucs pass defense.