Time To Air It Out
October 19th, 2012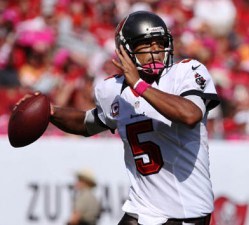 Just looking at a computer screen (outfits still run news stories on objects made from trees?), Joe can pretty much guess the Saints-Bucs game will be an aerial circus, or at least should be.
The Saints, led by future Hall of Fame quarterback Drew Brees, have a defense that is as wretched as Courtney Love.
The Bucs, who proved against the Chiefs the team has the potential to short out a scoreboard, has at best a shaky pass defense, no thanks to Aqib Talib's Adderall-popping. Even Bucs coach Greg Schiano said this week E.J. Biggers is not playing at 100 percent health.
So it would stand to reason the Saints-Bucs will torch each other's secondaries. That's what Josh Freeman believes, well, sort of (he's not throwing his defensive teammates under a Greyhound).
Freeman came right out and told eye-RAH! Kaufman of The Tampa Tribune the Bucs cannot pretend to play a game like those old Michigan-Ohio State bloodbaths where there might be 17 points scored, total.
With Drew Brees under center, New Orleans boasts the league's top-rated passing game and the Saints have not been held below 24 points during a 1-4 start. Connor Barth is one of the NFL's most reliable kickers, but Freeman knows the path to victory against the Saints leads through the end zone.

"In this league, three points seldom gets it done," Freeman said, "especially when you're playing a quarterback and an offense as talented as Drew Brees and the New Orleans Saints."
As Joe is wont to do, he listens to "Movin' the Chains," co-hosted by Pat Kirwan and Tim Ryan, heard exclusively on SiriusXM NFL Radio, and Kirwan for the past two weeks has all but been on his knees, begging Schiano to turn Freeman loose.
Kirwan claims the Bucs have shackled Freeman. The one time where Freeman was permitted to roam outside of his cage last week in the second half, Kirwan points out, the results were clear.
Kirwan also said with "dynamic" receivers like Vincent Jackson and Mike Williams, keeping Freeman under lock-and-key wastes those receivers' talents.
It's an interesting theory, and frankly, difficult for Joe to argue against.