"The Tackle"
October 23rd, 2012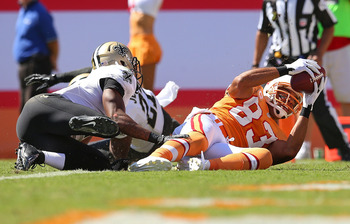 Not sure how many people were irresponsible yesterday and didn't do their due diligence as football fans to browse through the must-read weekly Monday Morning Quarterback typed by smartphone-censoring, scone-loathing, cricket-watching, popcorn-munching, Marriott-sleeping Peter King of SI.com.
King broke down in great detail the tackle that will live long in Bucs fans memories when Vincent Jackson, who had a fantastic game for the Bucs, was caught from behind, prevented from scoring on a 95-yard touchdown reception by Saints' Malcolm Jenkins.
The tackle on Jackson, and the subsequent four plays from hell, kept the Bucs from adding a score in what turned out to be a one-touchdown win by the Saints.
By King's measurement, Jackson had a good 30-yard lead on Jenkins, who closed the gap in Secretariat-like speed.
I've looked up the dimensions of the NFL field, and ran the play over and over about 20 times on NFL Game Rewinds in the wee hours of this morning. This is what Jenkins faced as he turned from covering his man to look at Jackson catching the ball: He was at the far right hashmark on the other side of the field, precisely 27 yards across the field and three yards behind where Jackson was in full gallop. It looked impossible, but Jenkins said he didn't think of that. "Just, 'Go as fast you can.' "

Right away, you could see he might have a chance. Jackson, who'd been limited all week in practice because of a calf strain, was running at tight end speed. Jenkins, who runs about a 4.47-second 40-yard dash, took a very good angle, from watching the replay over and over. It looked like he aimed to go on a straight line from where he began, at about the Bucs' 23, to the Saints' 20. Running at a bad angle here would have ruined him. If he aimed to catch Jackson near the goal line, he wouldn't be able to contact him in time.

"Vincent Jackson, he's not slow," Jenkins said. "I think what affected the play is we were in a regular Cover 2, and they quick-snapped the ball. Roman Harper went for the ball against Jackson, but they completed it, and then nobody's around. So the first thing is to just run and see what happens." When Jackson got to midfield, Jenkins was 10 yards to the side and six yards behind. "I saw him start to slow down a bit," Jenkins said.
Joe was chatting with local scribes right before the game Sunday morning, and all agreed the Saints game was a crossroads game. The Bucs trying to win on the road Thursday is a monster obstacle, as it is for all NFL road teams on Thursdays, thus there is a very real possibility the Bucs could be staring at a 2-5 mark.
Chances of playing in January after losing five of your first seven games are not good at all.
And Bucs fans will look back to those five plays — the Jackson tackle, the three ill-fated LeGarrette Blount plunges up the gut, and Josh Freeman's naked bootleg to nowhere — as the crossroads of a crossroads game.