The Return Of Da'Quan Bowers… Sort Of
October 17th, 2012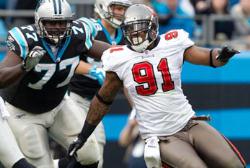 For the first time this season, Bucs defensive end Da'Quan Bowers was in the Bucs locker room after being able to practice with his teammates (oh, and the Bucs had their throwback helmets hanging in their lockers).
Bowers blew his Achilles in May during routine workouts at One Buc Palace and had been on the PUP list since. Now, under the rules of the CBA, the Bucs have a 21-day window in which to activate Bowers (the Bucs could, theoretically, could activate him tomorrow, or activate Bowers Nov. 7, or not activate him at all).
Once the 21-day window expires Nov. 7, Bowers either has to be activated or placed on the IR for the remainder of the season.
Bucs coach Greg Schiano said in his daily post-practice press conference Bowers possibly could play Sunday, though all but ruled it out as way too soon for Bowers.
"He has to get in football shape," Schiano said. "It's one thing to hit sleds."
Schiano did, however laud Bowers for being in as good of physical shape as anyone could expect recovering from an Achilles injury.
"Just biking, running in the treadmill underwater, a lot of different things," Bowers said of his daily conditioning at One Buc Palace since the injury. [Assistant strength and conditioning coach] Bob Gilmartin and I worked hand-in-hand each day doing a lot of things to keep my heart rate up."
Bowers agreed with Schiano that he has to get in football shape before he can think about playing, but has to be careful not to do too much too soon and find himself on injured reserve.
"It's all about being smart," Bowers said. "You don't want to jump in the fire too early. Just take it day by day and progress."