The Drive To Nowhere
October 21st, 2012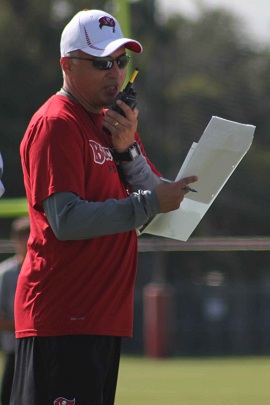 Jimminy Christmas! Mike Sullivan got so conservative at 1st-and-goal on the Saints 1 yard line late in the third quarter, Joe thought Alan Keyes hijacked Sullivan's headset.
Trailing by a touchdown and following Vincent Jackson getting outwilled by Malcolm Jenkins, the Bucs ran LeGarrette Blount behind Carl Nicks for a 1 yard loss. Then it was Blount again for 1 yard to the right. Then Blount back to the left for a goose egg.
Blount must do better. But Joe also has to wonder why, if Blount is going to be used in that situation, and the guy is a 240-pound back with tremendous leaping ability, why the Bucs aren't setting him up to run downhill and dive over the top.
Mike Alstott did it. Earnest Graham did it. Why not Blount?
Is Blount to blame? Or is it the coaching staff?
And what about Freeman just powering in one or two QB sneak attempts, something he's had great success with in the past.
Regardless, the Bucs got way too conservative there. And the naked bootleg to Freeman on fourth down was a disaster.
Joe's chalking it up to growing pains for a first-time offensive coordinator.