Setter-Upper-In-Chief
October 12th, 2012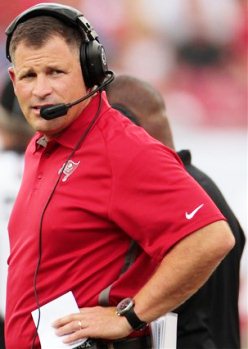 Joe's heard for years from quality football men that playcallers on both sides of the ball, especially the good ones, make decisions in games in order to be effective immediately but also to set up future successful plays.
Heck, it's even done in high school basketball, when a coach might call a few set plays in the first half to set up a backdoor cut later, for example.
That's just how great playcallers operate. They live in the moment with an eye toward the future. It's one of the great chess games of football.
So Joe was flummoxed yesterday when Greg Schiano threw cold water on that mindset. Schiano said he believes "setting things up" when it comes to playcalling is the head football coach's job, not the guy calling the plays.
"I love doing it. That's one thing I miss. I love each play having to think and make a decision, but the decisions that I have to think about are bigger," Schiano said of playcalling and being a head coach. "You know, and I have to think ahead. You know, as a playcaller you're thinking a little bit ahead but not as much. You can think about the next call, that setting things up, I think is a little overrated. I think it's the head coach's job to set things up. But as a playcaller, it is a fun day, but it can be a tough day, too."
This whole take by Schiano didn't sit right with Joe.
How can a head coach who's dialed into all three phases of football, and managing the overall game, be the lead on "setting up" an opponent during a game over a coordinator? First, the coordinator/playcaller has the distinct advantage of extensive in-game study of overhead photos when his unit is on the sidelines, as well as in-depth communication with a quarterback or defensive players, and assistant coaches.
Maybe Joe's missing something, but Joe's just not getting how Schiano can set up an opponent more effectively than a coordinator when the head coach is not the one calling the plays.
Perhaps Schiano has a greater hand in playcalling than is known.