Saints Tip Off Refs To Illegal Field Goal Defense
October 22nd, 2012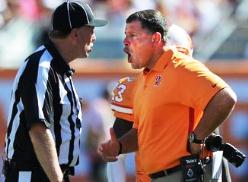 A lot is being made of the Bucs field goal defense yesterday, when the zebras threw a flag, unsportsmanlike conduct, that turned a field goal attempt into a first down and an eventual Pierre Thomas touchdown for New Orleans
It appears the Saints did their homework and helped draw the flag.
The Bucs used a shift against the Redskins that was deemed legal by the zebras — missed. The Saints didn't think so, and clearly noticed it by studying game film.
So yesterday when the Saints attempted a field goal, per Robert Klemko of USA Today, the Saints alerted the referees to be on the look out for illegal tactics by the Bucs.
"I haven't seen it in the pros, because it's against the rules," said defensive tackle Sedrick Ellis. "You're allowed to do your shifts but you're not allowed to yell to try to get the offense to go offsides."

Saints guard Jahri Evans said game officials were notified of the practice before the play.

"I think that's just what they're being taught," he said. "And that's what we told the refs — they can't try to draw us offsides in that situation or in any part of the game. I haven't seen that in a long time. I played Division II, and they didn't even do that in DII. It was definitely done to draw us offsides and we all knew it."
Joe will have a post on this later, but Joe will break down the shift. Ss Joe mentioned this morning, the Bucs players could have yelled "Goodell" and it still would have resulted in a flag.