Roy Miller Won't Wait For Chiefs Turnovers
October 10th, 2012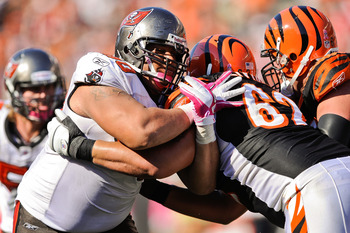 Joe would think any defensive player would salivate like he had a Bern's steak sitting in front of him at the prospect of playing a team that damn near averages four turnovers a game.
Don't count Roy Miller among said defensive players.
Miller told Joe that Kansas City's penchant for playing St. Nick does not, nor will not, change how the Bucs play defense Sunday at the stadium on Dale Mabry Highway.
"In the NFL, every team every week can show you something on film and do a completely [different] thing in the game," Miller said. "What you do is to stick to what you know how to do and try to play your technique and if you practice your techniques, practice to disrupt the ball and cause turnovers, that's what we do every week and that's what we plan to do this week.
"The past couple of weeks we have been pretty good with turnovers. So, we want to get back to that this week. That is always part of our scheme is to get turnovers. It's no different this week."