Projecting Talib's Future
October 13th, 2012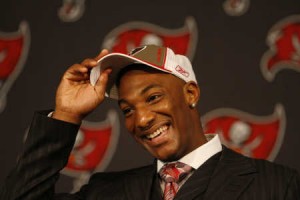 It's too early to get a read on what the Bucs might do with Aqib Talib when he becomes a free agent after this season.
There are so many variables to be determined, such has the health and effectiveness of the other Bucs cornerbacks, plus Talib's performance on and off the field this season. But NFC South Blogger Pat Yasinskas had no trouble speculating during his live chat Friday at ESPN.com. Yasinskas thinks Talib will have a new address.
Bryant (Virginia)

What do you think the Buc's will do with Talib in the offseason? He has not played great this year and it is the final year of his contract.

Pat Yasinskas: My guess is they let him walk.
Joe's not so sure. If Talib finishes the season healthy, clear of trouble and as the Bucs' best cornerback, then why give up on the guy?
But if that is the case with Talib, who turns 27 in February, then there will be serious bidding for his services. He might deserve the cash, but Joe would feel squeamish about giving Talib a pile of guaranteed money.