"No Absolutes" In Aqib Talib's Return
October 15th, 2012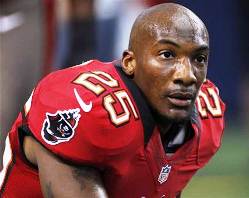 Speaking to the Tampa Bay pen and mic club this afternoon from One Buc Palace, Bucs coach Greg Schiano sure kept the door open for the possibility that troubled Bucs cornerback Aqib Talib has played his last game as a member of the Bucs organization.
Talib was slapped with a four-game by the NFL for failing a drug test for banned substances and Talib confessed he had popped Adderall without a prescription (which is an illegal act; buying prescription pills without a prescription).
Pressed by eye-RAH! Kaufman of the Tampa Tribune if Talib "with certainty" will return to the lineup once his four-game suspension is lifted, Schiano adamantly said he would be back but passed on the opportunity to say the future transaction was locked in stone.
"He's going to be back with us. There are no absolutes in anything in this world, right? I may not be back here when he comes back. How do you know? That's the plan, yes, and we are going to move forward at that point. As I have said in everything, as I say all the time to our team, things change day-to-day, week-to-week, month-to-month guys. I can't tell you exactly how things are going to be a month from now. I hope that we have won a bunch of games in a row, that's one thing I hope. So, yeah, the plan is, yeah, to have him back here with us.

"Look, every decision we make as an organization has one thing in mind and that is what is best for the organization. I guarantee you no one is always right. But I guarantee you every decision we are going to make is strictly for one reason and that it is best for the organization. It's not just winning. Yeah, that's what we do, that's what you do in this league. There are 32 teams and we are all chasing one prize. But when you are part of a community — yeah, there are a lot of things that go into the decision. I can just tell our fans and all the people who care about this is, we are going to do what is best for the organization which is going to be best for everybody. So you will have to just trust us on this one."
That sure is a qualified answer to Joe. "The plan" is to have Talib back, yet there are no absolutes. Plans, as we all know, can change.
If one is to ascribe motives, this decision on Talib's immediate future may not be strictly Schiano's alone to make. It almost smells like the decision will be influenced, or made directly, in an upstairs office at One Buc Palace.