Movin' The Chains
October 18th, 2012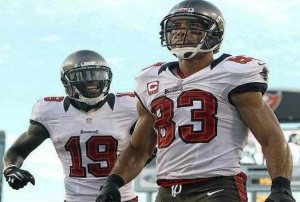 Yes, Joe is addicted to SiriusXM NFL Radio and strongly encourages likeminded football fans to get the satellite radio channel. Without it, you're missing out dearly on solid football analysis.
One show Joe enjoys is Movin' The Chains, co-hosted by Pat Kirwan and Tim Ryan, a hardcore, Xs and Ox-focused show that you will not hear on any radio station.
The show got its name from the simply moniker of football: move the chains. For the Bucs, that means wide receiver Vincent Jackson.
Per a nugget unearthed by eye-RAH! Kaufman of The Tampa Tribune, there may be no other receiver in the NFL who is a first-down machine quite like Jackson.
Eighteen of Vincent Jackson's 20 catches this season have generated a first down for the Bucs.
That is just an amazing stat and something to keep an eye on as this season progresses. Joe cannot remember a wide receiver that had such success movin' the chains.
With the rotten Saints defense next up for the Bucs, that number could grow sharply Sunday.