Mason Foster's Crime Was Saying, "Huh… Huh."
October 23rd, 2012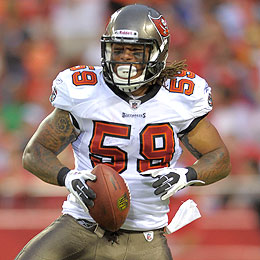 Joe had hoped to turn the page on the stinging loss to the Saints and concentrate on the Vikings game Thursday night. But Bucs rock star general manager Mark Dominik walked into the press room at One Buc Palace to give the pen and mic club an update this afternoon, and a clarification on the unsportsmanlike penalty called on Mason Foster. The flag game on a field goal defensive shift that gave New Orleans a first down, which led to a touchdown.
The Bucs, of course, lost by a touchdown.
"Just to update, I have been in touch with the league office on "that play," [the unsportsmanlike conduct penalty on the field goal defensive unit]. Everything from a defensive line [standpoint] is legal, the shifting. Mason Foster, everything he did in terms of movement, is legal. Everything," Dominik said.

"The only thing that is up for discussion on why the flag was thrown was the disconcerting sound of which the league office said they [the umpire] heard was 'Huh… huh.' That's what the umpire said he heard.

"Now we have run the play with success before. In Washington. It is clear that we ran that play in Washington. There is no audio transcript of the New Orleans play. At that point it was a judgment, that's what [the umpire] thought he heard. That's why the flag was thrown.

"It is a legal play. Up to the point of what is it that the player actually say. We coach the players to say the same thing as they did in Washington. This is not a play that Greg took from Rutgers or college. It's a play we have already seen at the NFL level and already had success with it. That's why we did it again. I will let the coaching staff decide if we see it again or use it again. At the end of the day, legally, it is a legal play up to when the linebacker says what he said on the move call. At that point it is up to the umpire as to what he heard.

"As long as you are not simulating the sound of the count it is permitted. Not specifically the word.

"There are a lot of different elements to it (including messing up blocking assignments). Could you block it, could you get a false start? All of those are part of the reason to help us find a way to win."
Dominik also spoke about the last play of the game, where the officials ruled that Mike Williams had been pushed out of bounds, which the officials ruled was legal because Josh Freeman had moved out of the pocket.
Dominik said the team had no issue about that call because the team believed the call was correct.
"It is standard; it was a good play by them,' Dominik said. "When the quarterback gets out of the pocket you are allowed to push a player out of bounds. It's a legal play."