Leonard Johnson Ready For More
October 30th, 2012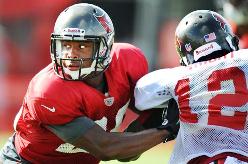 Last week with the Bucs still down a cornerback thanks to Aqib Talib's suspension and Brandon MacDonald dinged up, former Largo High School quarterback and free agent rookie Leonard Johnson got the call for his first NFL start.
He played well, very well in fact, and had a pick and if there was a decent replay, may have had two picks.
Bucs coach Greg Schiano raved about Johnson's play against the Vikings during his Monday press conference and said he is confident with Johnson if he should be called into starting duty again. Talib still has to serve one more game for his sentence and there's the looming suspension for fellow Adderall fan (allegedly), Eric Wright.
Mark Cook of PewterReport.com buttonholed Johnson late yesterday to get his take on his play.
"I just went out and tried to have fun and do everything I was asked to do," Johnson said. "The fact I was able to start in nickel and dime (coverages) was something I looked forward to doing all week. I didn't want to put too much thought into it or pressure on myself about going out there with the first team. I just wanted to hang out and let all be natural.

"That's the kind of approach I take when opportunities like that present itself. All week I was just telling myself – I do a lot of self-talking – that the bigger the stage, the bigger I perform. I told myself that all week knowing that if I just took care of things in practice I'd feel confident and then I'd be able to go out and perform. I always visualize having big games. I didn't actually visualize that (the interception), but I just knew something big would happen."
Now Joe may not be totally objective when it comes to Johnson, who Joe has known since Johnson was a freshmen starter for Largo. But Joe thought the Bucs got a steal when Johnson slipped through the cracks of the draft.
Johnson, from people Joe has spoken qirh, has improved since signing with the Bucs, which is exactly what one would hope. If Johnson gets the call in the coming weeks, let's just say Joe has more confidence in Johnson making plays than he does Myron Lewis.