Joe Theismann Rallies To Greg Schiano's Defense
October 23rd, 2012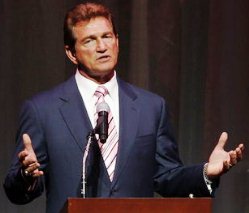 With controversy swirling over the head of Bucs coach Greg Schiano in certain NFL cirlces, first over his kneel-down defense and now his field goal defense, Schiano is receiving public support from an unlikely source: Joe Theismann.
The Super Bowl-winning quarterback for the Redskins and popular NFL analyst had Schiano's back when he appeared on the "Ron and Ian Show" today on WDAE-AM 620.
"I don't have a problem," Theismann said. "Our league continues to evolve from coaches and situations and to try to do something different. If you look at the victory formation, Herm Edwards' play looms in everyone's mind. You never know what is going to happen and it put everyone on alert: That when you play the Tampa Bay Buccaneers you will play to the last snap.

"Greg is going to find there are certain things that will be accepted and not be penalized for and some things you are going to want to do and realize, 'I can't do that.' He's not alien to professional football. "
Theismann then went on to say many of the plays and formations that are common in the NFL today were hatched plans as experiments by NFL coaches not that long ago, and what Schiano is doing is no different. As for his dust-up with Giants headmaster Tom Coughlin, Theismann said, "Coaches are always going after each other and that is not going to change."
To hear the full interview, click on the little arrow below.