Jeremy Trueblood Playing On Left Side? "No."
October 31st, 2012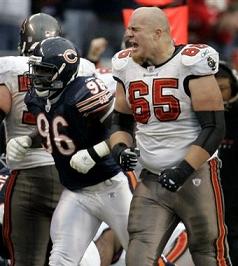 While Bucs coach Greg Schiano was coy as expected about who will replace injured left guard Carl Nicks — all signs point to Ted Larsen — Bucs fans at least know who won't be replacing Nicks any time soon, assuming backup tackle Jeremy Trueblood was not pulling Joe's leg.
That would be Trueblood himself.
Joe caught up with Trueblood after practice and asked him if he would be playing left guard any time soon. Trueblood's answer was short yet direct.
"No."
Joe followed that question up with asking Trueblood if he has been practicing at all on the left side of the line. Trueblood was equally short and direct with Joe.
"No."
Again, unless Trueblood was conning Joe and others, do not expect Trueblood to be playing in the void left by Nicks at any point in the near future.