History
October 26th, 2012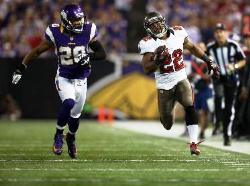 Joe is still geeked from last night's game, a punch-in-the-face win over the Vikings in their crumbling crib.
It's as if Joe has had a glass or two of Bushmills. But he hasn't.
One reason the Bucs fared so well against the Vikings is that the team made history, thanks in large part to Muscle Hamster, Doug Martin.
Consider what the numbers geeks at ESPN dredged up for the Bucs:
Running back Doug Martin carried the load, becoming the first player in Buccaneers history with 135 rushing yards and 75 receiving yards in the same game.

Martin ran for 121 of those yards between the tackles, the second-most by a Buccaneers running back in the last five seasons (LeGarrette Blount had 126 in a game against the Indianapolis Colts last season).

Martin's 65 yards after contact, between the tackles, are the fifth-most by a rusher this season.
Pretty impressive night for Martin, right? Joe just marveled at Martin's vision last night. he was patient with his blocks and when there were bodies in front of him, he quickly shifted to the sight of daylight.
Very impressive.
Martin seemed to have turned the corner with performances over the Chiefs and Saints, both lame defenses. Now he sets a team record against one of the better defenses in the NFL, the Vikings?
Joe's liking what he is seeing. Big time!