Headset Failed RG3 During Winning Drive
October 1st, 2012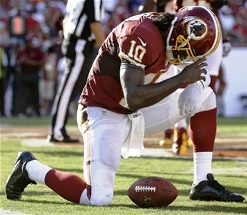 Joe's not sure what the following means, but it is interesting and is surely Bucs fans will agree.
After the Bucs took a 22-21 lead late in the game, the Redskins took over in what turned out to be a do-or-die drive.
Robert Griffin III, the Redskins quarterback, marched the Redskins down the field to set up a game-winning field goal without the use of his helmet communication with the Redskins coaching staff, documents Mark Maske of the Washington Post.
The Redskins' faith in their rookie quarterback is complete, only four games into his NFL career. He nearly pulled off a dramatic comeback late in a loss at home to the Cincinnati Bengals a week earlier.

This time, he and the rest of the Redskins' offense got it done in crunch time, even with the receiver in Griffin's helmet not operating on the final drive.

"He's a winner," said Redskins cornerback DeAngelo Hall, who had an interception to set up a first-half touchdown, of Griffin. "It's starting to rub off."
Why is this interesting to Bucs fans? Last week in a critical late-game drive for the Bucs in a one-score game, the headset went out in Josh Freeman's helmet and, not knowing what play to call from the Bucs coaching staff, Freeman called a run on third-and-nine.
The run failed.
Joe finds it interesting that a rookie in his fourth NFL game has the wherewithal, savvy and/or confidence to run a successful two-minute, game-winning offense without a headset, yet the Bucs crumbled on just one play under similar circumstances.