Greg Schiano's Statement On Aqib Talib Saga
October 13th, 2012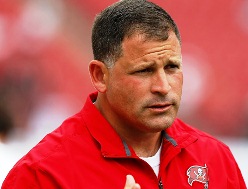 One can't imagine that part of the New Schiano Order is to unlawfully pop a pill obtained without a prescription. So it comes as no surprise to Joe that Bucs coach Greg Schiano is not a happy camper to learn, less than 24 hours before kickoff of the Chiefs-Bucs game, that troubled Bucs cornerback Aqib Talib has been suspended (again), this time for four games.
Schiano reacted to the incident, via the Bucs media relations staff:
"We are disappointed to learn that Aqib Talib will be suspended for four games, which will begin with our game tomorrow against Kansas City," Schiano said. "I have spoken with Aqib, and he knows that he made a poor decision that let our team down. Certainly, other players will have the opportunity to step up while he serves this suspension."
And as Joe suggested previously, that opportunity will likely falls to Bucs cornerback Myron Lewis.