Da'Quan Bowers Returns To Practice Tomorrow
October 16th, 2012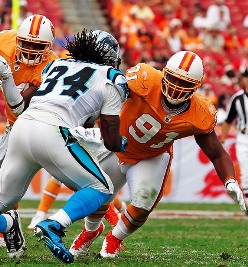 Perhaps trying to come back to soon or maybe he's an incredibly fast healer, defensive end Da'Quan Bowers is scheduled to resume practicing tomorrow, so Bucs coach Greg Schiano explained yesterday, by way of Stephen Holder of the Tampa Bay Times.
The Bucs defensive end ruptured his Achilles tendon during conditioning in May, but on Wednesday he'll re-join his teammates in practice now that he's permitted under guidelines governing players on the physically unable to perform list.

Players on PUP cannot practice during the first six weeks of the season. But after that, teams have 21 days in which to decide whether the player is ready to resume practicing. In this case, Bowers already has convinced the Bucs he's there, coach Greg Schiano said.

"He'll do some stuff the rest of this week and we'll just observe and kind of go from there and see how he responds," Schiano said.
Now generally, an Achilles injury takes a year to fully recover, if not more. Bowers was injured at One Buc Palace during a routine training workout — five months ago.
Granted, just because Bowers is practicing, limited practicing that is, doesn't mean he will be reinstated to the 53-man roster. The Bucs have until the first week of November to make that decision.
As Joe has written before, the more the Bucs win, Joe believes the chances that Bowers will be reactivated increase; if the Bucs fall out of the playoff race, Bowers' chances of playing this year decrease.
All things equal, Joe would much rather Bowers sit out this year. An Achilles injury is nothing to monkey around with. Rushing to play a handful of games when thinking of the big picture, well, it's not worth it.