Da'Quan Bowers Happy To Be In The Mix Again
October 26th, 2012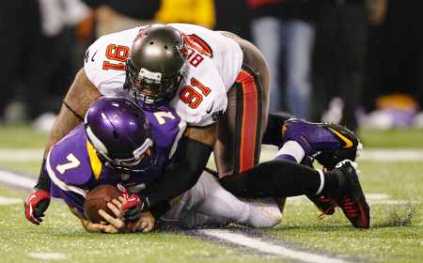 There were a lot of happy campers in the Bucs locker room this afternoon at One Buc Palace, still basking in the glow of a curb-stomping of the Vikings last night, on the road no less.
Perhaps the happiest of all the Bucs, at least to Joe, was defensive end Da'Quan Bowers. The second-year pro from Clemson had been out of action since May when he suffered an Achilles injury working out at One Buc Palace.
Bowers was pulled off the PUP list last week and activated to the 45-man roster last night before the game, where he logged his first snaps of the 2012 season.
Bowers had hopes of playing last night but as of a week agao had no idea if he could make a go of it; he's still trying to get in football shape. The decision by Bucs coach Greg Schiano to activate him didn't come until Thursday afternoon.
"It started early in the week, we talked about it, didn't make any decisions and to see how it felt in practice," Bowers said. "So I went through practice [this] week and felt good. I sat down with [Schiano] Wednesday night and we talked about it again on Thursday. I felt comfortable. I got enough reps in practice so we decided to go ahead and give it a try."
For Bowers, the win over the Vikings means so much more than one win.
"I'm definitely excited to be back on the field, be a part of the action again," Bowers said. "It's been a long time."