Da'Quan Bowers Activated For Vikings Game
October 25th, 2012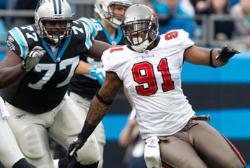 Joe's not sure if this is hitting the panic button or a smart thing, but the Bucs just announced through the team's official Twitter feed that defensive end Da'Quan Bowers has been activated and will play tonight against the Vikings.
@TBBuccaneers: The Bucs have just activated DE Da'Quan Bowers from the PUP list. He should play tonight against the Vikings.
Bowers blew out his Achilles working out at One Buc Palace in May. Generally, this is an injury that takes a year to heal properly.
Yeah, the Bucs' pass rush could use some help now that Adrian Clayborn was put on the injured reserve list. But was it the Bucs didn't have a pass rush against the Saints because Bowers and Clayborn weren't on the roster, or because Bucs coach Greg Schiano gave the blessing to only rush Drew Brees with three men, basically allowing him to get his oil changed before having to throw the ball?
If Bowers reinjures his Achilles, it will be one helluva debt to pay by rolling the dice. Joe's not of the mind that the gamble is worth it.