Chiefs QBs Don't Scare Talib
October 9th, 2012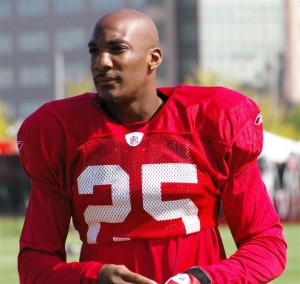 Hopefully, Aqib Talib will round soon into Pro Bowl form and become a playmaking cornerback snatching passes and locking down receivers all game long.
But to hear Talib talk, it seems he thinks there won't be many of those potential big plays to be had Sunday against Kansas City. In an interesting bit of audio from the Bucs' Monday locker room session played on 98.7 FM this morning, Talib sounded confident the Chiefs won't pose much of an aerial threat.
"The quarterback don't do nothing but handoff the ball, in that situation, so we feel like if we knock that run out we'll be alright," Talib said of the Chiefs.
Joe can't quibble with Talib's scouting report but it's a dangerous line of thinking. Talib's been on the field when backup quarterbacks have beaten the Bucs.
Also, hopefully the Bucs will be forced defend the pass leading the Chiefs late in the game — preferably a two-score lead.