Chiefs May Get Starting Safety Back For Bucs
October 12th, 2012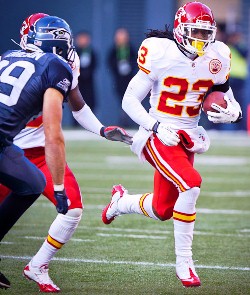 Yeah, Joe knows Bucs fans seeing the two yards-and-a-cloud-of FieldTurf pellets running attack are anxious for Bucs coach Greg Schiano to remove the shackles from Josh Freeman and air it out.
Well, that concept got a bit tougher today when Adam Teicher of the Kansas City Star typed that Chiefs starting safety Kendrick Lewis, who has been out of the lineup since injuring his shoulder in the preseason, is slated to start Sunday against the Bucs.
"I'm back this weekend," Lewis said. "I'm saying that. Coach hasn't put his stamp on there but I'm feeling good and I'm feeling confident to go out there and help my team and I'm ready if he allows me to."

Lewis injured his shoulder in the preseason and hasn't played since. He returned to practice weeks ago but only this week has he been working with the starters.

Crennel has indicated that Lewis would play when the Chiefs believed he could handle the contact. But he acknowledged there's no way to know that from practice alone.
Notice that Crennel didn't say Lewis wouldn't start? Of course, Crennel is playing his cards close to the vest.
One sidenote about Lewis: He had the pleasure last year of having Sabby the Goat start alongside him for two games. Last year, likely buoyed slightly by Sabby the Goat playing in the same defensive backfield, Lewis collected 60 tackles in 16 games, 48 of which were solo tackles.