Warren Sapp Threatens Thrown Down With GMC
September 11th, 2012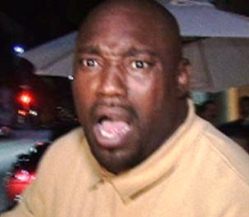 It is not a good thing to get former Bucs great defensive tackle Warren Sapp angry. And apparently, despite current Bucs defensive tackle Gerald McCoy having a fantastic game against the stinking Panthers, Sapp found a way to get irritated with GMC.
GMC hassled, hounded and bruised Panthers quarterback Cam Newton, who is the size of a tight end if not an offensive lineman. Newton, a couple of times, escaped the clutches of GMC which prompted Sapp — always a Bucs player at heart — to call GMC, so writes eye-RAH! Kaufman of the Tampa Tribune.
McCoy posted one of Tampa Bay's three sacks against Cam Newton, adding two tackles for loss and two quarterback hits. On the morning after, he lamented a snap when he appeared to have Newton wrapped up but couldn't bring him down – a sequence that prompted a phone call from former Bucs defensive tackle Warren Sapp.

"Sapp called me last night and said, 'Look, if you've ever got a quarterback in your grasp like that and you let him out, me and you are going to fight,' " McCoy said.
Joe understands where Sapp is coming from and also understands Sapp has the same mentality of Al Davis, "The quarterback must go down, and he must go down hard." But as GMC notes in Kaufman's article, bringing down Newton is easier said than done. Newton is a different breed of cat than, say, Brett Favre or Rich Gannon or Jeff George, some of Sapp's contemporaries.
Nevertheless, Joe thinks it is cool that Sapp is still so emotionally involved with the Bucs that it disturbs him when the Bucs don't reach perfection.