The Guessing Game
September 6th, 2012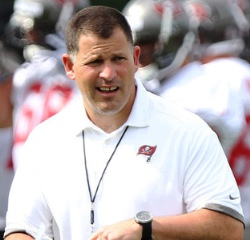 Joe vividly remembers one of his many interviews with Bobby Bowden, then still lording over the Florida State football program, on a hot May morning on a Clearwater golf course.
Among the questions Joe asked of Bowden was about how his Noles would open the 2001 season on Labor Day night against Miami. Butch Davis had just run off to Cleveland (and Canes defensive coordinator Greg Schiano had just bolted to Rutgers), and Larry Coker was taking over.
Joe asked Bowden how he can prepare for a team in the first week of the season that has a new coach and new assistants.
"You can't," Bowden said in his famous Alabama barbecue drawl, shaking his head. Bowden went on to say a team just had to go by tape of what coordinators and coaches had done in the past and hoped they used the same tactics. Bowden added that in a situation like that, a team generally just focuses on what they do more than the mystery of an opponent's new coaching staff.
This is the corner Carolina coach Ron Rivera finds himself in. Not only do the Bucs have a new coach (Schiano), the Bucs (thankfully) have both a new defensive coordinator and offensive coordinator.
Like Bowden a decade ago, Rivera admits trying to prepare for the unknown is sort of a stab in the dark.
"That is always tough," Rivera said. "When I was a coordinator, I always wanted to open up against someone that you knew, and that you felt confident about. Going up against Coach Schiano, and really what they are going to do both offensively and defensively is going to be new. We're only going to see parts of it, based on what they do in the preseason. Some of it is a guessing game but the one thing you do know and you do expect from a Coach Schiano football team is a bunch of hard-nosed football players."
If the Bucs — and Schiano — do have an advantage Sunday, it is the unknown factor. Mike Sullivan has never been an offensive coordinator before. Though Bill Sheridan has been a defensive coordinator before, he certainly didn't have the same roster to work with when he called the shots for the Giants defense.