Surgery Up Next For Sammie Stroughter
September 24th, 2012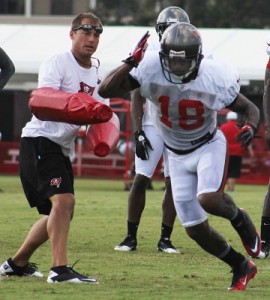 Joe heard some local radio hosts talk last week about how perhaps the Bucs ordered Sammie Stroughter to go on injured reserve with a bogus foot injury, seemingly so the team could open roster space to sign Tiquan Underwood or Chris Owusu as they did last week.
Well, Joe can put that conspiracy theory to bed.
Stroughter will go under the knife to repair his foot, so rockstar general manager Mark Dominik said during the Bucs' radio broadcast Sunday. Exactly what happened to Stroughter is unclear, but the inury occurred against the Giants.
Regarding Owusu, Dominik went on to explain that the team was trying to sign him when he was cut from the 49ers, but Owusu opted to stay on the west coast and sign with San Diego.