Stop Cam Newton = Stopping The Run
September 5th, 2012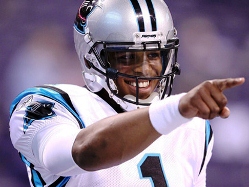 Earlier today, Bucs coach Greg Schiano discussed how Panthers quarterback Cam Newton is so dangerous yet so versatile, if you (somehow) stop Newton, a defense will actually stop the Panthers' rushing attack.
Schiano was quick to add that Newton is so talented, a defense cannot expect to shut him down only limit his effectiveness.
Bucs defensive tackle Gerald McCoy reinforced Schiano's theory when Joe got a chance to chat with him after practice.
"Yeah, that guy, man, he is a different breed of player," GMC said of Newton. "It's rare to see a guy come in and do the things he did as a rookie and have so much focus. He has a lot of vet in him already; he had it as a rookie. That is not something that is just given, it is earned. He works. It will be a challenge. He is an escape artist and we are putting in the work and we have a few more days to prepare for him."
So how true is it that if you bottle up Newton, the Panthers rushing attack struggles?
"Yeah, because they have a lot of gun-and-run stuff they do where it all starts with him and his decision-making and he is a great decision-maker. Not just with the passes he makes but the runs he makes, too," GMC said. "He is good, he is good. In order to get anything done we will have to stop the run. Have to!"