"Seeing It All A Lot Faster, A Lot Clearer"
September 6th, 2012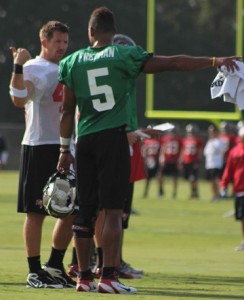 Josh Freeman was pressed yesterday to name the No. 1 one way he's improved since last season.
No. 5 gave two answers. First, Freeman replied, "fundamentals."
Next, he went on to explain how his understanding of the game is much better. "I'm seeing it all a lot faster, a lot clearer," Freeman said.
Put aside all the blubbering, predicting, hyping, overanalyzing for the 2012 season, the Bucs will ride where Josh Freeman takes them. The defense can't carry these Bucs, and the heralded offensive line has already been dealt a massive blow. If No. 5 is good, then the Bucs will be good.