Raheem Gets A Nod For Transforming Erik Lorig
September 21st, 2012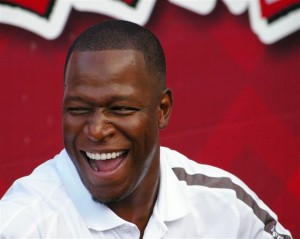 The ol' ball coach, Raheem Morris, can take credit for a keen football eye when it comes to Bucs starting fullback Erik Lorig.
During an interview on WDAE-AM 620 Wednesday, rockstar general manager Mark Dominik praised Lorig's play and said "credit our former staff" for seeing more in Lorig than what was on his college film from Stanford, where he was a high-motor defensive end who had played a little tight end. Joe was able to confirm that Dominik's tip of the cap was for Raheem and company, rather than personnel staff.
Yesterday, Mike Sullivan also dished out love to Lorig before media at One Buc Palace.
"Insurance Lorig" doesn't have a ring to it, but he's proving to be very solid and versatile in the Bucs' offense, which uses the fullback more than most in the NFL. Well done, Raheem.