No Moral Victories For Mike Williams
September 16th, 2012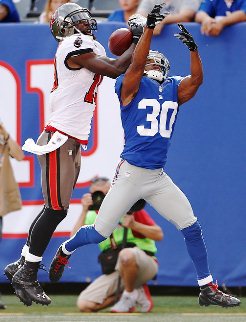 EAST RUTHERFORD, N.J. — This Bucs loss, which stung as bad as acid reflux at 4 a.m. after a long night of many beers, wasn't as painful to some Bucs players.
"We hung with the World Champions," some Bucs said.
"We can play with any team," others sighed.
Bucs wide receiver Mike Williams was not one of them. For him, the simple fact is what matters at the end of the day is what's on the scoreboard. And for the Bucs, it was less points than the Giants.
"We still didn't win the game," Williams said. "It didn't matter if we lost by one or lost by 50; it didn't matter if we fought hard or didn't fight hard. Losing is losing.
"We have to look at the film to see where we can get better. We have to play better."
It seemed Williams had a long catch of a Josh Freeman bomb with 12 seconds left deep in Giants territory. But after an official review, the play was waived off, declared an incomplete pass.
Williams took the road to less fines and wouldn't blame a scab ref for overturning the play.
"The refs made their call, that's their job," Williams said. "My job is to catch balls and block and catch touchdowns. [Overturning the catch] was not my call. That's their job."