No Limit For Demar Dotson
September 19th, 2012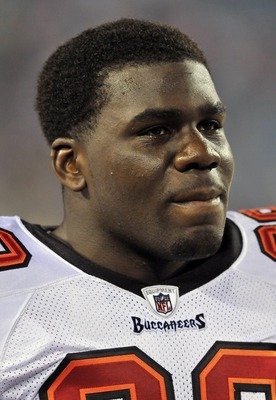 The journey for new Bucs starting right tackle Demar Dotson is really just beginning. That's the word from Dotson's fellow offensive linemate, center Jeremy Zuttah.
Dotson was named the starter yesterday at right tackle, taking over for underwhelming and dinged up Jeremy Trueblood.
Zuttah isn't exactly shocked by the move. Not so much that Zuttah predicted that Trueblood would be benched, but Zuttah could see how Dotson, a former college basketball player with scant football experience, was progressing the past couple of seasons.
"'Dot' has always been a great athlete," Zuttah said. "Now he is focused on becoming a football player. Before, he was just relying on his athletic ability, the whole time, pure athletic ability.
"The sky is the limit for him."
Dotson learned of his promotion when his agent called him last night to alert Dotson he was elevated to the top of the depth chart.
Dotson noted that it has been a "tough road" from being a basketball player full-time to his lone year of football prior to the NFL, that was his final year in college at Southern Miss.