Muscle Hamster To Be "Handful" For Giants
September 13th, 2012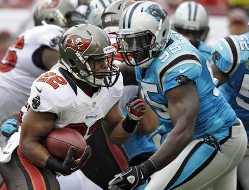 One of the cool things — and there were many for Joe — about the Bucs' win against Carolina last week was how rookie running back Doug Martin, in his first NFL game, ran for 95 yards on 24 carries, nearly four yards a carry, against perhaps the best linebacker unit in the NFL.
These were not easy yards, these were rugged yards, bruising yards, yards that Martin felt for a couple of days after the win.
Consider popular sports personality Adam Schein impressed. Schein, in addition to his duties at SiriusXM NFL Radio, CBS Sports Network and SNY, also finds the time to type a weekly column for NFL.com and believes Muscle Hamster will give the Super Bowl champs fits Sunday.
Buc the trend

Coach Greg Schiano has changed the Tampa Bay Buccaneers culture less than a season after the team quit on Raheem Morris. A key part of Tampa's future, and the win over the Carolina Panthers, was the hard running style of Doug Martin. Appearing on SiriusXM Blitz, Schiano gushed that Martin "pulls people forward. If we have (to go 3 yards), he pulls for 4. If there's a breakdown up front, he gets to the line of scrimmage." The Giants couldn't stop the Cowboys' DeMarco Murray in Week 1. Martin will be a handful for them on Sunday.
This will be the key element in game. The Giants have no running game to speak of. If the Bucs defense can stop the Carolina rushing game (10 yards — 10!), the Bucs should be able to contain the Giants' running backs.
If Martin can get going against a beastly Giants defensive front, this will keep the ball out of the hands of two-time Super Bowl MVP Eli Manning.
It's classic keepaway football and right up Greg Schiano's alley: take care of the ball and eat up the clock.
Have an issue with this? Call Schein and discuss the subject with him on the air at 1-877-NFL-KICK.