More Evidence That Dominik Outfoxed The Giants
September 14th, 2012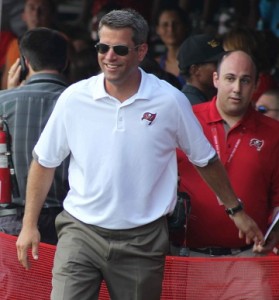 Probably still reeling from the Bucs hurdling his Giants at the end of the first round of the 2012 draft to snag Doug Martin, Giants general manager Jerry Reese hinted back then that the Giants really wanted Martin instead of crying running back David Wilson.
But then Reese ran to the WFAN-AM airwaves on May 1 to backpedal.
"There's been some conjecture that Tampa had moved up in front of us and took Martin," Reese said. "That's not true … Martin would not have been our pick."
Well, now there's even more evidence that Reese was caught with his pants down and Bucs rockstar general manager Mark Dominik outfoxed the Giants by moving up out of the second round to snag the No. 30 pick and Martin.
Giants offensive coordinator Kevin Gilbride all but told NJ.com yesterday that Martin was a better player coming out of college compared to weepy David Wilson.
Kevin Gilbride gave a frank appraisal when asked to compare Doug Martin, the rookie running back drafted 31st overall by the Buccaneers, and David Wilson, the rookie running back drafted 32nd overall by the Giants.

"Different styles. I think David has great explosion and great speed," the Giants offensive coordinator said today. "I think Doug Martin looked more — what's the word I want to say? — versatile. Ready to do all aspects: pass protection, pass catching as well as running. What they did offensively and what Virginia Tech asked of David are two completely different things. In some respects, (Martin) is a little further along in those aspects at playing the position."

Martin and Wilson were the second and third running backs drafted, respectively, after Alabama's Trent Richardson. The Buccaneers traded up to get Martin, a Boise State product, leaving some wondering if the Giants would have selected him instead of Wilson at No. 32 if he were available.

Gilbride's answer about Martin being further along than Wilson raised that question, but he deferred to the front office when asked.

"Oh, I've got no say," Gilbride said. "You have to talk to the general manager about that one. I have zero say."
Yes, Joe realizes Reese has Super Bowl rings on his fingers, but he was humiliated by Dominik in April, a move that could lead to a Bucs win Sunday.