Greg Schiano Speaks
September 13th, 2012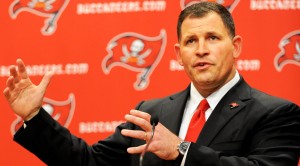 Earlier this week, Joe brought an excerpt of Bucs coach Greg Schiano's appearance on "The Blitz," with co-hosts Adam Schein and Rich Gannon, heard exclusively on SiriusXM NFL Radio. Well, today, Joe has the rest of the interview, word-for-word.
Adam Schein: Rich, right now live on the line, as promised, the head coach of the Tampa Bay Buccaneers, friend of the radio program, Greg Schiano. Coach, Adam Schein and Rich Gannon. Congratulations on your first win in the National Football League.
Greg Schiano: Thanks fellas I appreciate that.
Rich Gannon: Well coach, you gather all of your information through the offseason program and the preseason, but you never know just quite how a team is going to respond until you get them out there Week 1. My guess is you are pretty pleased what you saw from your football team on Sunday.
Schiano: Well it was, you are exactly right; you are going through those things and even in preseason and going into that first game you are not sure what you are going to see. I was happy we got the win and more importantly, we made a ton of mistakes but we were able to teach from the win column. That is always good.
Schein: Greg, take us through that if you can in terms of the mistakes. As a coach, I don't want to say that makes you smile because you want to come as close to pitching a perfect game as possible. But if you make mistakes [and] you still win the game, you can't get too high on the team, [they are] coachable moments as a staff. Take us through what you want to clean up from Week 1 to Week 2.
Schiano: Well Adam, we really, everywhere I have coached, you enjoy the win because they are pretty darned hard to come by. And then when you get in the next day, OK, you put the reality cap back on and it is never as good as you felt when you win and it's never as bad as you felt when you lost. We had a lot of communication things and, just first-game mistakes. The one positive though is that we were pretty good in the first half and played penalty-free football, held onto the football. I think those two things give you a chance in any game.
Gannon: You think of shutting out a team like Carolina in the first half. Coach, they had 49 offensive plays. The thing that was so surprising to me was I know the game, how it unfolded, I know you are not involved with calling plays from their side, but did you get the sense they didn't try to push the envelope running the football? You guys had trouble with the run game a year ago but you look at this game, you just dominated, you never let them get going rushing the football. They had 10 yards rushing all day. I guess that is something you prided yourself in throughout the preseason.
Schiano: Well it is, but not just me it's the players. They prided themselves in that. They believed that if you can do that, you have a chance. Stopping the run makes a team one-dimensional and when that happens, like I said, it gives you a chance and it gives you a chance to get some interceptions.
Schein: I told you before that I was really impressed with Doug Martin; I told you that after the draft. Thought he was perfect for you guys. You know, I don't even care about his stats and the stats were fine. I was impressed with the hard-earned yards, the tough yards, the yards at the end of the game to control it, to ice it. Tell me what stood out in terms of Doug Martin over the weekend.
Schiano: I think you described it. There were no easy yards with that linebacker corps. I mean he was getting hit and was blowing some people forward. Every yard counts. When you get hit for three but you pull them for four and then it ends up a second-and-six instead of a second-and-seven. And the thing that Doug has done a good job with is when someone makes a mistake and someone does flash in the backfield, Doug can get 12 or 13 when it is second-and-nine. Those are huge differences when you are calling a game on offense.
Gannon: What about Ronde Barber coach. What an incredible game. He gets a sack and gets an interception in his 200th start. Just talk about the transition that he has made going from corner to safety alongside your rookie Mark Barron.
Schiano: I am thrilled for Ronde and thrilled for our team. I am glad he came back. When we first arrived, we wondered if he was going to continue playing. Then he was great when I approached him with a position change. At that point in your career do you really want to be doing that? He has been awesome. He is really good on the field, both in practices and in games, really good in the meeting rooms, teaching our players what it means to be a true professional and he has a flair for the dramatic, right? In his 200th straight game he starts, he makes those kinds of plays and really played well.
Schein: Such a great player, such a great leader for you guys. How about Josh Freeman. How did he play Coach and how did he grade out when you watched the film?
Schiano: I think Josh did exactly what we needed for him to do for us to win. He took care of the football, he managed the clock well. He did all the things in the run game that we needed him to do. Those are the things that the fans generally don't understand is, he will get you in and out of the correct run play or you know, using the cadence the right way. I was pleased that Josh had a complete performance. You look at the stat line and go, 'Well, that's OK.' He really played winning football and for me, at the end of the day, that's all that matters.
Gannon: Coach, for me, the big challenge for coaches like yourself with young players and a young football team, is their ability to handle success and turn the page and change the focus onto the next opponent which you know will be a heck of a challenge for your football team going up to New York to face the Giants. Any sense as to how the team, as you watched them on Monday come in on Tuesday, is this a team that is mature enough to handle some success and get right back on the gridiron and on the practice field and do the type of work that it will take to repeat this week?
Schiano: Well I think so, but we will find out in [three] days or so. I think they approach things the right way. They know how we are. Just as I said earlier, [a win] is enjoyed for a few hours and then the reality strikes when you throw that tape up. We are very honest with our guys; I told them from the beginning that we are not going to sugarcoat it. We will let you know where we are and where I think our coaches do a real good job of is, giving them what we believe to be the formula of winning success that week. I think it changes each week. I think your opponent's strengths and weakness as compared to yours, will adjust and hopefully after a good day of game-planning we will have a clearer picture. But you hit it on the head; this is a great challenge going up to New York to play the defending super bowl champs. I think that will get everyone's attention.
Gannon: Coach, difficult to lose good players, you lost Davin Joseph to an ugly injury. How did Ted Larsen fare at the right guard position on Sunday?
Schiano: I thought Ted really battled. I thought he did some good things. Everybody makes mistakes, you know that. But you hit it on the head. Losing Davin Joseph was a huge loss to our football team. Not only on the field but in the locker room and from a leadership standpoint. I am anxious, he has had his surgery and is in the early stages of rehab, but pretty soon here, I think he will be able to be around the building a lot more and be around the line a lot more because he has vowed to do everything he can in the role he is in now to help us win.
Schein: Mike Williams is an interesting guy for you guys Coach. I think the presence of Vincent Jackson will help him. You know, Mike has been through a lot on the collegiate level and on the professional level. Flashing brilliance at times, other times his work ethic on the field or his off-field issues have been questioned, you know, clean slate I am sure with you. What have you seen in terms of offseason practice, preseason and then in-game over the weekend over Mike Williams?
Schiano: I have seen a guy who is committed to being the best he can be, I really have. He has bought in hook, line and sinker and has worked his tail off. His receivers coach, PJ Fleck, said he busts his hump every day in practice. I am excited. With Vincent on the other side and when we get Arrelious Benn back healthy again and we have Preston parker, we have some guys that will allow mike — last year he was having the coverage rolled to him and he was getting doubled. Now he was getting some one-on-one coverage which is great.
Gannon: Greg always a challenge coming out of the preseason, players coming together to play special teams not having played together and rookies out there. Tell me about how your special teams performed.
Schiano: You know, we were boom or bust. Had a great blocked punt which was a huge momentum regainer so to speak. Things weren't going as well as it had gone in the first half and we were able to block a punt and then score which made it a two-possession game. I thought that was great. We could have done better in some other areas, so that has been a real focus. Special teams are getting a lot of attention down here. Especially from the head coach. A little disappointed but we will improve. I think what we need to do is get some guys healthy and get them plugged into their normal positions and let them build some cumulative repetitions.
Schein: Anything special for you going back to Jersey Sunday after spending so many years with the Rutgers Scarlet Knights?
Schiano: Well, it is home and I grew up in the shadow of that place. Certainly I will have a lot of familiarity. But as you know when you go home you have to get a lot of tickets ready.
Schein: Coach as always, great stuff. Congratulations on that good looking win against the Panthers and best of luck against the Giants; we will talk to you again real soon.