Greg Schiano Dismisses Early-Whistle Debacle
September 23rd, 2012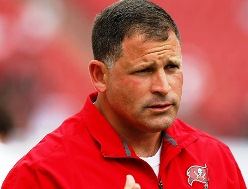 A frustrated Bucs coach Greg Schiano spoke on the Buccaneers Radio Network following the game. Though he was polite, there was no denying the frustration in his voice amid the despair of lacking offense that blocked the Bucs from a valued road win in North Texas today.
When asked of what looked to be a scoop-and-score by Eric Wright off of a Tony Romo fumble, which would have given the Bucs a lead in the second half, Schiano dismissed any talk that the non-play cost the Bucs the win.
"It's in the rule book," Schiano explained. "When a whistle is blown on a play that is later determined to be a fumble, the ball is spotted at the point of the fumble recovery. It's in the rule book."
What Schiano did not dismiss was the rash of turnovers and stupid penalties that all but torpedoed the Bucs this afternoon.
"I thought the defense had a good day, played well and we had more pressure on the quarterback than we have had all year," Schiano said. "But as a team, we were not ham-and-egging it too well. We had too many penalties, too many turnovers. We will get it fixed. We had an opportunity to win on the road and two weeks in a row we didn't finish it and make it happen. That's part of our growth, I imagine, but it is frustrating.
"It is disappointing. We did not find a way to win; I did not as a coach. Dallas is a good football team. I'm not going to make any excuses. We got whooped. The beauty of it is six days from now we will play the Redskins."