Given A Chance, Tiquan Underwood Shines
September 30th, 2012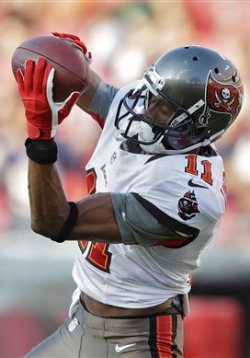 When Joe attended just about every training camp practice scheduled, one receiver jumped out as being one of the most productive on the field.
It was not difficult to spot the guy in his hairdo, Tiquan Underwood, who also played college ball for Greg Schiano at Rutgers.
He was cut after preseason, largely because he was not a special teams guy. Now that Sammie Stroughter is out of action and Preston Parker is no more, Schiano called Underwood back and he rewarded Schiano and the Bucs in a big way today when he made a key, diving catch for 18 yards on the Bucs' final drive, which ended in a field goal that briefly gave the Bucs a lead.
Underwood spoke about his return to the Bucs and being able to make a contribution to the club.
"You always have to take the positives whether it is a win or a loss," Underwood said. "I am sure that's what we are going to do. We are going to build on the good things that we did and clean up on the mishaps that we had and get better through the bye week."
On his big catch over the middle.
"Great call by [offensive coordinator] Coach [Mike] Sullivan. Josh [Freeman] gave me an opportunity and I came down with it. The line gave him time and we just executed it."
On how to counsel the younger players after a tough loss:
"Just tell the players this is one game, win or lose, you are happy about the good things that you did and you learn from the bad. Obviously, we would rather do that after a win. it's just one game. you clear your head and move on to the next one."
On his return to the Bucs and the faith Schiano showed in him:
"Obviously [Schiano] knows me and there is comfort in one another. I am just grateful to have this opportunity today. in this league, when your number is called you have to be ready. That is what I am going to try to do each and every day, each and every week.
"It is very comfortable [with the Bucs] because I was here through training camp and OTAs so it is not that much different, I got to come back here and pick up where I left off. Coaches have been very helpful with me the past couple of weeks."