Exciting Times For Hometown Bucs DB
September 6th, 2012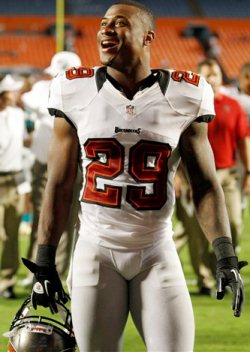 Just about every young boy playing football at some point dreams of taking the field for his favorite team.
For Bucs cornerback Leonard Johnson, in three days, that will be reality.
Johnson, who grew up in Clearwater and was a four-year starting quarterback at Largo High School, leading the Packers to two consecutive state semifinal appearances, made the Bucs 53-man roster last week after being an undrafted yet highly touted free agent out of Iowa State.
When Joe caught up with Johnson this week, he was too locked in to make his scheduled weightlifting session than to talk about dreams, but did give Joe a brief few moments.
"I am excited just to be back home," said Johnson, who went to Bucs games growing up as a youngster and attended Greg Schiano's local football camps in high school. "In [three] days, my dream will have come true."
Don't be shocked to see Johnson play at cornerback, not just special teams. There is a reason why the Bucs earlier this week signed Brandon McDonald and waived offensive lineman Derek Hardman, despite the Bucs' right side of the offensive line being in disarray since Davin Joseph was lost for the season. That's because the Bucs secondary is now thin as well thanks to nagging injuries to E.J. Biggers and Anthony Gaitor.
Biggers is still a bit hobbled from an injured foot he suffered on the first day of training camp when he and Arrelious Benn collided. This week, Biggers has had limited participation in drills preparing for Carolina as has Gaitor who is nursing a tender hamstring.
This opens the door for the hometown guy, Johnson.
"When my number is called, all I have to do is just go out there and execute and make plays," Johnson said.
Johnson has been busy these days. He grew up in a rough area of Clearwater known as North Greenwood, where a path to crime and gangs is too often taken than the initial harder road Johnson chose of going to college, getting a degree and reaching his dream of playing in the NFL. Even as a college player, Johnson was active in neighborhood youth activities, often speaking to youngsters in the area about how dreams can be reached through education, encouraging them to go to school, that if good things can happen to him, it can happen to them as well through hard work.
Tuesday was a bit different. Johnson showed up, representing the Bucs, wearing his Bucs No. 29 jersey.
"I see those kids a lot but to let them see me with my Bucs jersey on, it meant even more," Johnson said.
That's because the City of Clearwater, through a grant from the Bucs and the NFL, built a youth football complex for the North Greenwood area, near the old Jack Russell Stadium where the Phillies used to play spring training games.
"Now that I'm home, I'm just doing God's work," Johnson told Jared Leone of Clearwater Patch. The complex comes replete with lights, irrigation system and field goal uprights.
Johnson was sort of the emcee of the event, the native son done good.
For the youngsters in the neighborhood to have a state-of-the-art complex to play and practice football on, Johnson said, "Is awesome, really awesome."
Just like the story of how a neighborhood son grew up to reach his childhood dream.