Effort And Talent Ahead Of Details And Discipline
September 25th, 2012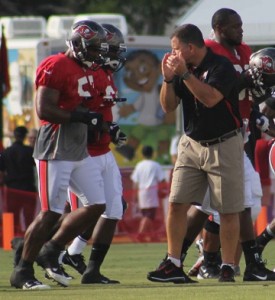 Is a lack of discipline and attention to details hurting the Bucs?
Absolutely.
That seems like an impossibility under the New Schiano Order. But the Bucs' last two losses, where the Bucs came up short and made mistakes and questionable moves in the final two minutes, has Joe thinking.
It was the ol' ball coach himself, Raheem Morris, who defended his Bucs team as being a disciplined program last month. And the very first defense Raheem offered was the team's success late in games in 2010.
"We won a bunch of [2010] games in two-minute when you have to be disciplined. You got to do all the right things, things have to be executed exactly the right way in order to win those tight games and those close ones, which we did," Raheem said. "You know, last year we weren't able to accomplish those things, so you're undisciplined."
It was a fair point by Raheem. Precision execution is required to win late in games. It's not magic, unless the referees give the you game or snatch it from your clutches (see last night or Bucs-Lions 2010). 
So far, the 2012 Bucs are 1-2, not only in the standings, but also in the late-game details. For Joe, the Bucs lost precious time and timeouts with how they handled their final drive in Dallas. Inexcusable stuff.
Yes, Joe believes Schiano runs a toes-on-the-line program, but details and discipline have killed the Bucs the past two weeks. Joe's just glad it's a not a lack of talent or effort that has cost the Bucs. That means the Bucs woes should be fixable quickly with proper coaching.