Bucs Aren't "Bullies"
September 23rd, 2012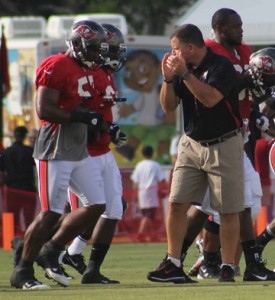 Joe's not really getting why Bucs beat writer Rick Stroud would call Greg Schiano and his Buccaneers "bullies," like he did today in a piece penned for the Tampa Bay Times.
Frankly, it's almost ludicrous. And it makes Joe seriously question whether Stroud knows the meaning of the word, "bully."
Who exactly are the Bucs bullying? They barely laid a hand on Eli Manning in 51 pass attempts. And the players don't break on-field rules or get fined, like the fist-throwing, cheap-shotting Giants did last weekend. Hell, the Bucs' most bone-crushing and intimidating offensive threat sits on the bench.
Simply attempting to play physical football on every snap — like many other clubs around league — doesn't make you a bully. It makes you a football team.
Stroud also seems confused why Schiano accommodated media requets for interviews this week on the heels of the world famous kneel-down-buster play.
But it continued with Schiano's unapologetic stance that he was all too accommodating to repeat in one-on-one interviews last week on ESPN, the NFL Network and NBC Sports.

Regardless of where you come down on the debate over the kneel-down play — and many respected former players and coaches sided with Schiano — he didn't want to let the issue pass without taking full advantage of it.
Joe bets Stroud would also be on Schiano's ass if he didn't accept the interview requests from the NFL's cherished television partners. He'd probably even drop the P word on Schiano. There's no pleasing some in the media.
Regardless, Joe hopes the Bucs do become bullies of the NFL. But Joe knows the Bucs are miles away from filling those shoes, if they even aspire to.