Upon Further Review, Offensive Line Mortal
August 17th, 2012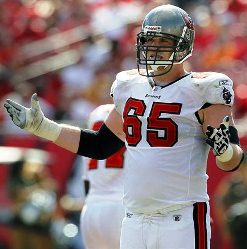 The way the Bucs played last week against the putrid Dolphins, it seemed the offensive line was going to lead the way to an offensive renaissance.
A week later, Bucs fans have come back to reality.
Against the Titans, in some cases, the line was porous. Jeremy Trueblood struggled and yes, he was flagged too.
Jeremy Zuttah was abused often.
Even Demar Dotson got burned.
There were a few holes for LeGarrette Blount and Doug Martin to run through. The best run of the night came on the heels of a holding penalty. Once, Blount was nailed by three defenders in the backfield at about the same time he got the handoff.
If the Bucs want to be a strong, smashmouth running team, the offensive line has to do better and it also needs to keep Josh Freeman's jersey clean. Too often he either had to rush a pass or was flushed out of the pocket, usually from a rush from the right side.