The Meaning Of The Doug Martin Fumble?
August 2nd, 2012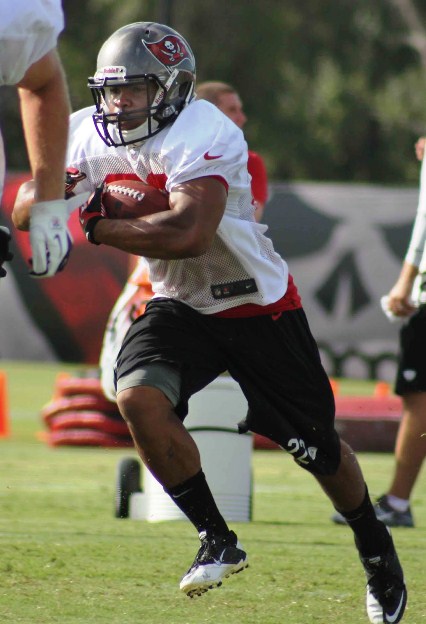 Bucs fans love debating the competition between LeGarrette Blount and Doug Martin.
Most of Joe's media brothers have stated their confidence that Blount has little shot at being the Bucs' go-to running back. Beat writer and WDAE-AM 620 personality Rick Stroud, and the dean of Tampa Bay sports radio, Steve Duemig, have been among the most vocal of late. They focus on Martin's draft position as a major reason he'll be the Bucs' primary back.
Right now, under Greg Schiano's loudly proclaimed clean slate, all the head coach has said is that both running backs look good and they complement each other well.
But ball security is one of Schiano's personal obsessions and Martin lost the rock yesterday at practice. Joe has yet to see Blount fumble this offseason. On Sunday, long after practice, Schiano was not happy about a Mossis Madu fumble that appeared to come after the play was blown dead.
Does that mean much? Probably not. But Joe knows it would be national news if Blount fumbled in practice.
Joe's wise enough to understand that Martin's draft position at the end of the first round is a factor, but Joe also knows that Schiano's credibility with his team is far more important.
If Schiano is telling players that they will earn their playing time, then that must apply to the running back position or he risks far more than not getting the most out of a first-round pick.
Think the players aren't watching? Davin Joseph told the Tampa Bay Times this week that Blount is his favorite running back.
Joe just wants to make the point that he believes the running back battle is wide open at this point and that the most impressive RB in preseason will be the opening-drive guy on opening day.
Ronde Barber went out of his way this weekend to emphasize how much he appreciates Schiano's win-now attitude and urgency. It's comments like those and others that lead Joe to believe nothing is pre-determined — or already determined — in the running backs competition. Joe's not buying that draft and personnel politics are a big deal for a new coach with a five-year guaranteed contract.
Hopefully, both Blount and Martin will thrive, allowing the Bucs to pound the ball 35+ times a game. That should translate into a strong season.